November 1, 2023 | 5:00pm | Room 1020, The Chez Veterans Center and on Zoom 
Image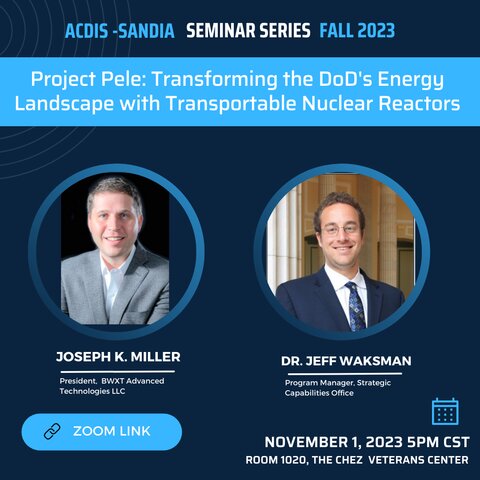 Speakers:
Joseph K. Miller,President, BWXT Advanced Technologies LLC
Dr. Jeff Waksman, Program Manager, Strategic Capabilities Office
Zoom webinar
Meeting ID: 881 8700 2100
Password: ACDIS
Abstract: 
The DoD is one of the largest users of energy in the world, consuming around 30 terawatt-hours of electricity per year and more than 10 million gallons of fuel per day, and projections for future military operations predict energy demand will increase significantly in coming years. DoD installations need the capability to reduce their present reliance on local electric grids, which are highly vulnerable to prolonged outages from a variety of threats, such as natural disasters, cyberattacks, domestic terrorism, and grid failure from lack of maintenance and aging infrastructure. To that end, the Strategic Capabilities Office (SCO) within the Office of the Secretary of Defense (OSD) initiated Project Pele, which is a 1-5 MWe transportable nuclear reactor currently being designed and built by BWXT, and targeted for initial operation at Idaho National Laboratory in late-2025.
Biography: Joseph K. Miller is the president of BWXT Advanced Technologies LLC, a subsidiary of BWX Technologies, Inc. (BWXT), and subsidiaries Cunico and Dynamic Controls, Ltd. Prior to his current position, he served as general manager. He also held the role of program manager for BWXT's Advanced Technologies group.
Mr. Miller previously served as a system design manager of various nuclear engineering projects as well as test engineering manager, validating the design of the mPower™ small modular reactor nuclear steam supply system.
During his 24-year career, Mr. Miller served in the U.S. Navy onboard the USS Norfolk (SSN 714) and was a mechanical test engineer for new construction of Virginia-class submarines. He also worked as a semiconductor equipment engineer.
Biography: Dr. Jeff Waksman is a Program Manager at the Strategic Capabilities Office (SCO) where he leads Project Pele (mobile nuclear reactor) and Project TRISO (encapsulated nuclear fuel). As part of this role, in addition to direct program management, he aids coordination on nuclear energy programs and related policy development across the interagency.Before arriving at SCO, he worked for NASA as a Senior Policy Adviser, where he advised on policy and technical issues while also serving as the first Executive Secretary/Designed Federal Officer of the National Space Council Users' Advisory Group. Prior to his federal service, he worked in the private sector for IBM, where he was a staff scientist working on advanced semiconductor technology such as reactive ion etching, III-V materials, quantum computing, and heterogeneous integration.  He also performed physics research prior to this at NASA Goddard Institute for Space Studies and at the Princeton Plasma Physics Laboratory.