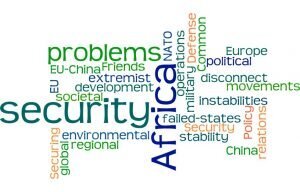 by Maxime H. A. Larivé, Ph.D.
November 28, 2016
Africa was a missing piece in the 2016 American presidential elections. Trends in, Africa including political instabilities, the rise of extremist movements, and all environmental and societal problems contributing to an increase of failed-states, were not even mentioned. Only the large questions feeding popular interests such as migration, terrorism, and energy were brought up, and those with neither a convincing strategy for solutions nor a reflection on the root causes of problems.
A day after the US elections, the French think tank Friends of Europe, held an event in Paris entitled "EU and China instrumental to Africa security." Along with this event, a collection of discussion papers was published in a report titled "EU-China Relations. New Directions, New Priorities. Discussion paper" (download the report here). This report seeks to address an issue poorly understood in transatlantic circles, a shift in Chinese foreign and security policy vis-à-vis Africa. "China is moving towards a more active role as a security actor in Africa," wrote Giles Merritt and Pauline Massart "for instance in its contributions to the NATO-led counter-piracy operation in the Gulf of Aden."
Europeans have historically been playing a considerable role in Africa from a development, security, economic, and political angle (read the analysis here). Since the Arab Spring, the Middle East and North Africa as well as the Sahel region have been highly volatile, creating a series of crises impacting the security and stability of Europe. The refugee crisis fueled by a high flow of refugees from the Sahel, the Horn of Africa, and the Middle East illustrates implications of the instabilities in Mali, Central African Republic (CAR), Somalia, Eritrea, Syria, Libya elsewhere in Africa.
Europeans have instruments aimed at dealing with the root causes of problems in Africa. These instruments include the Common Security and Defense Policy (CSDP) launched in 1998 and an array of humanitarian and development assistance programs. Currently, the EU has nine ongoing EU CSDP operations in Africa: five military and four civilians. The mandates and sources of funding vary depending on the type of operations. However, EU CSDP missions tend to be small—in terms of human and financial contributions—despite very ambitious objectives. In recent years, France has been a very active military actor in Africa, beginning with the 2011 Libyan mission and continuing with military operations in Mali, CAR, Syria, and Iraq. France still has 6,500 soldiers deployed in the Sahel and the Middle East, working alongside EU civilian experts and soldiers.
Studies and recent developments on the ground have demonstrated a disconnect between military goals and political will in the West. In order to stabilize Africa and either balance or coordinate with a rising role of China in Africa, the EU and the member states will need to consider the implementation of a substantive, combined development-security approach. Africa is a crucial continent for regional and global security and requires serious political commitments and visions.
Maxime H. A. Larivé, Ph.D. is the Associate Director and Director of Graduate Studies at the European Union Center at the University of Illinois at Urbana-Champaign