Image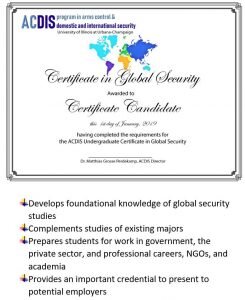 Please contact ACDIS with any questions: acdis@illinois.edu | Office Number: 217-333-7086
Approved full-list of courses:
Full Course List - Updated 12.03.2021
Approved Courses for Spring 2022:
Spring 2022 ACDIS Certificate Course List
---
The Program in Arms Control & Domestic and International Security (ACDIS) at the University of Illinois at Urbana-Champaign is pleased to offer a Certificate in Global Security for undergraduate students. The purpose of the certificate is to:
To provide students with a coherent framework for developing foundational knowledge within the multi-disciplinary field of global security studies;
To complement studies by students in their existing major(s);
To inform students about opportunities for internships and professional careers in the private and public sectors concerned with national and global security.
Students who complete the certificate will be prepared to use their knowledge and skills in government, the private sector, NGOs, and academia, and in fields such as international relations, diplomacy, politics, business, law, health, finance, and media.
Credential
This certificate will provide students with an important credential to present to prospective employers. Although current university rules preclude citation of the Certificate on their official transcripts, students can add this credential to their résumés. ACDIS will provide a printed document certifying completion of the certificate requirements once students graduate from the University of Illinois.
ACDIS Scholarship Eligibility
Students participating in the ACDIS certificate program will also be eligible for scholarship opportunities from ACDIS to support internships and research in the United States and abroad with a national and global security focus.
Certificate Completion Requirements
For students who apply for the certificate after January 19, 2016:
Students must complete 15 credit hours in courses in global security from the Certificate – Full Course List PDF, Excel Version). The Spring 2022 course list can be accessed here: Spring 2022 ACDIS Certificate Course List
Students must complete GLBL/NPRE 483 Seminar in Security (1 credit) as the required core class for the certificate. GLBL/NPRE 483 may count as either a social science/humanities course or a natural/science/engineering/technology course.
Of the 15 credits, 6 credits must come from social science/humanities courses and 6 credits must come from natural science/engineering/technology courses. The remaining credits may come from any course or courses on the approved ACDIS Certificate Course List
All courses to be applied to the Certificate must be taken for full credit; they cannot be taken pass/fail or audited. Certificate courses may also be applied to majors.
For students who apply for the certificate before January 19, 2016:
All original course requirements apply, though all newly approved certificate courses count.
Students who have chosen to complete the certificate by taking 12 credits and attending 8 talks will have until May 2017 to complete the 8 talks component of the track.  Starting August 2017, ACDIS will no longer designate any talks to fulfill ACDIS requirements.
Classes selected for the certificate include a component that describes, examines, and/or presents security issues through the lenses of natural sciences/engineering and/or social sciences/humanities.
Students may petition to have a course that is not on the approved list added to their certificate plan of study, provided that students justify in writing the security components of that course. The petition must be made prior to taking the class.
Completion and Graduation
Students will provide the following to ACDIS:
An official transcript (not a copy) from the Office of the Registrar, either paper or digital. A letter will be sent to the student showing the ACDIS address and contact for the transcript.
A current address for certificate recipient.
Students have 90 days after the final transcript is available to submit it to ACDIS. 
Students must meet with the ACDIS Director or Associate Director, or an advisor identified by the ACDIS office, to verify completion of the certificate.
Register for the Certificate in Global Security
Students must be in good standing and currently enrolled at the University of Illinois in order to register for the program. Students must meet with the ACDIS Director or Associate Director for an advising appointment to apply. Applications must be made prior to the completion of the required coursework.
Please contact ACDIS to schedule an appointment: acdis@illinois.edu; 217-333-7086.
Also check out our For Students section to find more information on internships, programs, graduate student policies, and student publications.